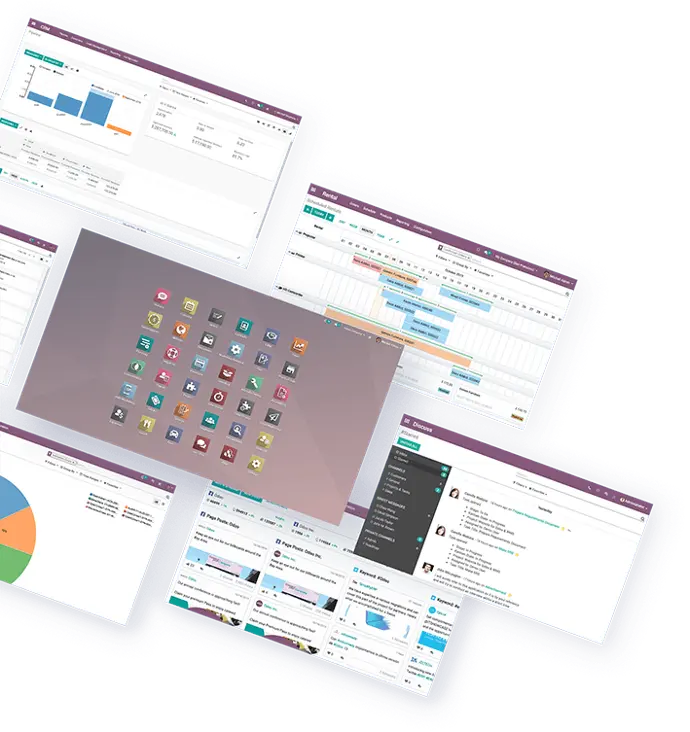 What is Odoo?
Odoo is a Web Application helping Businesses run their operations.
As a traditional ERP, Odoo incluse usual modules to keep track of sales, stock, purchase, accounting...
In addition, Odoo has ready to use "modules" so business can also
build their website
set up their e-commerce platform
do project management
communicate through Chat and even with online video
...
That's not it! Komit can help you to create your very own and custom modules as extension of the existing modules or as standalone modules.
Learn more About Odoo
A tailored ERP
and
a tailored methodology

Throughout the years, Komit has acquired a complete expertise in the implementation of Odoo projects from business analysis to support. We have put in place strong and adaptable processes with tools to ensure the quality, reliability and efficiency of our operations.
Thanks to these, we can confidently customize Odoo, so that your Odoo will be a tailor-made ERP designed especially for your business.
But before jumping into customization, we always try to check with you if you could reasonably adapt your processes to one of the multiple configurations of each of Odoo workflows. We always try to avoid custom developments to control the cost of your ERP implementation, and to facilitate the long term maintainability.
In addition, we adapt the way we work with each customer depending on their organization, our partners and the project phases by selecting the most suitable methodologies for the management of your project.


Standard project timeline
First Meetings

Pre-analysis and demo
During the first meetings, we validate your interest in Odoo, and define the high level scope of your project.
Analysis

Together, we study how you are working, compare it with the features of Odoo, see if you could adapt to one of the configurations of Odoo, or document a customization to adapt Odoo to your requirements.

Plan

We provide you with a task breakdown, and an iteration breakdown.
Quick-start: we encourage starting with a first phase during which you will use the features of Odoo which do not require any customization. What you learn during this phase will contribute to our discussions when implementing features that requires customizations.
The Quick-start approach will reduce the risks, let you benefit from quick-wins and let you discover naturally what Odoo can do.

x n iterations

Technical Specifications
Development
Internal Tests
Customer Tests

Each iteration is deployed to production and starts bringing value to your business without waiting for the next features.

Support

We keep helping you by supporting your key users and by improving your Odoo application continuously.
We also provide services related to server management, backup, monitoring.

Let's implement Odoo for your business